Vaccines May Be The Single Biggest Contributor to the Decline of Our Pet's Health
The British Small Animal Veterinary Association, BSAVA, recently tweeted this:

The BSAVA then suggests this in their article: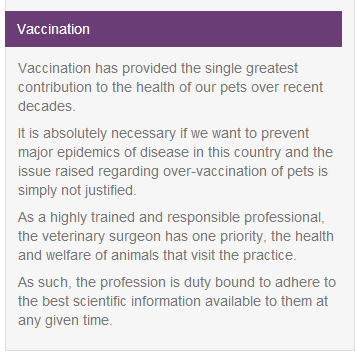 Really?
I don't think so. In fact their statement is somewhat misleading, and further entrenches those who are in the 'no vaccine' camp.
Clearly vaccines have helped thousands of animals. Rabies for instance is fully preventable with vaccines.
I, in fact suggest that your dog or cat be vaccinated for rabies if they are at risk of contracting the disease.
But there is now some pretty powerful research suggesting that the rabies vaccine may give lifetime protection to your dog or cat (minimal 7 years), and should not be given yearly.
Overvaccination has been linked to a variety of adverse effects:
Research has demonstrated that overvaccination can cause harmful adverse effects in dogs. Immunologically, the rabies vaccine is the most potent of the veterinary vaccines and associated with significant adverse reactions such as polyneuropathy resulting in muscular atrophy, inhibition or interruption of neuronal control of tissue and organ function, incoordination, and weakness, auto-immune hemolytic anemia, autoimmune diseases affecting the thyroid, joints, blood, eyes, skin, kidney, liver, bowel and central nervous system; anaphylactic shock; aggression; seizures; epilepsy; and fibrosarcomas at injection sites are all linked to the rabies vaccine. It is medically unsound for this vaccine to be given more often than is necessary to maintain immunity, yet scientific research strongly indicates that the 3 year booster interval required by state laws may be unnecessary. ( Source: Rabies Challenge Fund, http://www.rabieschallengefund.org/about-the-rcf/about-the-rabies-challenge-fund)
Rabies is not the only vaccine linked to serious disease.
There are the 'regular' canine and feline shots that have been used for years by veterinarians as a method of getting you back in to their veterinary practice.
These can include: distemper, parvovirus, parainfluenza, adenovirus, leptospirosis, bordetella, lyme disease, coronavirus in dogs, and feline viral rhinotracheitis, calicivirus, panleukopenia, feline leukemia virus, FIP, and FIV in cats.
But, they have also caused thousands of adverse effects.
This is what Dr Ronald Schultz, School of Veterinary Medicine of the University of Wisconsin has to say:
Once a year, Ronald Schultz checks the antibody levels in his dogs' blood. Why? He says for proof that most annual vaccines are unnecessary.
Today, many vaccinated dogs receive a shot for Lyme disease.
However, Schultz says that the ticks carrying the Lyme disease pathogen can be found in only a few regions of the United States.
More importantly, Schultz adds, "The vaccine can cause adverse effects such as mild arthritis, allergy or other immune diseases. Like all vaccines, it should only be used when the animal is at significant risk." He notes that the Veterinary Medical Teaching Hospital at the UW-Madison School of Veterinary Medicine rarely administers the Lyme disease vaccine.
(Source: Ron Schultz DVM, http://www.news.wisc.edu/8413)
Many of the common, chronic dog and cat diseases such as allergies, arthritis, cancer, feline urinary tract disease, ear infections, kidney disease, cognitive dysfunction have been linked to the bodies inappropriate response to proteins, known as antigens.
Vaccines work because they stimulate to the immune system to respond as if a disease were threatening your pet. But when they are given repeatedly, it is fairly easy to see how they can then lead the immune system to respond adversely, attacking organs ( as in hypothyroid disease), or causing your pet's body to over-respond to a benign threat (as in allergies).
So what should you do?
Well clearly it's a very personal decision, based on your research, communication with your veterinarian, and the likelihood that your dog or cat will get a particular infectious disease in your area.
Personally I am no longer vaccinating my own dogs or cats- they are all middle aged, all had vaccines as puppies and kittens, and they are no longer at risk of infectious disease.
Now the risks to vaccinating my pets outweigh the rewards.
I advise a very limited vaccine protocol, giving a small number of core vaccines, only to puppies and kittens.
My suggestions to those pro-vaccine veterinary associations:
How about some basic acknowledgement- it goes a long way with your spouse, and will help your cause.
If you present both sides you just might engage the 'questioning vaccine camp', and have those who are shying away from the veterinarian's office willing to listen to you.
Andrew Jones, DVM
P.S.  In my upcoming webinar on Dog Health and Nutrition I am discussing my Advised Dog Vaccine regimen.  What to vaccinate with, what to avoid, and when to STOP.
You can get on my Free Webinar here: