Vancouver petting-zoo goats may have been slaughtered for meat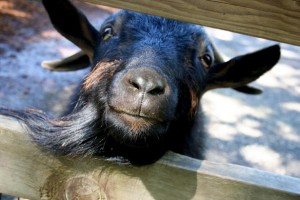 Retired pygmy goats that were once pets at the Stanley Park petting zoo appear to have been sold for their meat.
This has happened despite the specific requirements to treat them humanely, and allow them to live out their 'natural' life.
A variety of farm animals, Goats, sheep, cows, pigs, were adopted by hobby farms and private owners around Greater Vancouver when the children's zoo in Stanley Park closed last year.
The owner of a hobby farm in Langley, B.C., Trevor French, adopted 17 goats and four sheep from Stanley Park in January, 2011.
At a news conference on Sunday, park board chairwoman Constance Barnes said "I was very distressed to learn of the alleged mistreatment of several goats and sheep adopted out to a local farm," "I have also directed our city solicitor to take aggressive legal action" against French.
A local newspaper investigation, however, found records from the Fraser Valley Auction house which showed French brought in 15 pygmy or smaller goats last year for sale.
Auction house owner Ken Pearson said "all the wether (castrated) goats are meat for sure" because they wouldn't have been bought as pets. He identified the goats as former petting-zoo animals from photographs.
The park board chairwoman Constance Barnes also said, that she vowed "to see this one through to the end" if it is proved the operator of the hobby farm broke the terms of the adoption agreement.
The agreement required park board or SPCA approval for almost all changes in the living conditions of the animals.
———————————–
Dr Jones comments
———————————–
That some people, such as 'Trevor French', shouldn't be allowed to care for animals, let alone adopt them.
It was a very unjust, and completely wrong thing to do.
The petting zoo goats were adopted out to him in good faith, then when he falls on financial hard times he just dumps them.
Reminds me of individuals who just leave animals at a shelter.
Once again this shows our poor animal protection legislation, and how
some people, such as Mr French, need to be facing large fines.
Serious penalties, not just a slap on the wrist.
Plus it was such a crappy thing to do.
I hung out at the Stanley Park petting zoo with my children, and they loved to pet the goats.
These animals didn't deserve to die this way.
Please leave your comments.
Dr Andrew J