Soothe Your Pet's Arthritis:Omega-3 Fatty Acids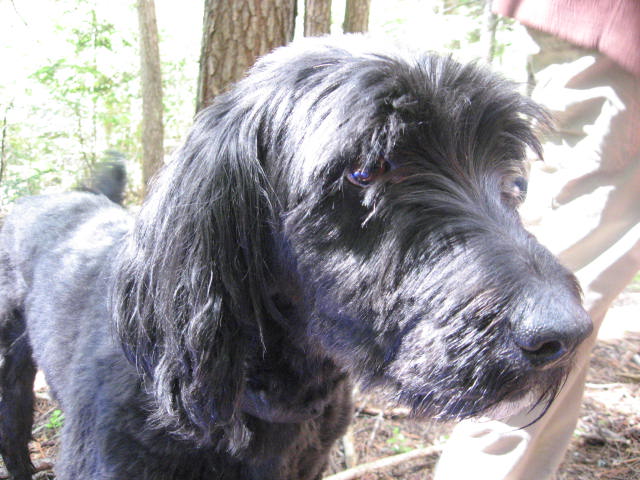 If you have a middle aged to older dog or cat, then likely they have some degree of joint
discomfort- arthritis.
They should be on a high quality, effective, essential fatty acid (EFA).
There are a number of studies backing this up.
A study conducted last year in the Netherlands suggests that cats with naturally occurring osteoarthritis show symptom improvement when their diets are supplemented with omega-3 fatty acids.(1)
A Canadian study published last year that indicates that dogs with osteoarthritis, benefit for EFA supplementing.The dogs were fed a veterinary prescription diet containing high levels of omega-3 fatty acids from fish, and showed significant improvement in locomotor disability (problems moving around) and performance of daily activities.(2)
Dietary Sources
Fish, plant, and nut oils are the primary dietary source of omega-3 fatty acids. Eicosapentaenoic acid (EPA) and docosahexaenoic acid (DHA) are found in cold water fish such as salmon, mackerel, halibut, sardines, tuna, and herring. ALA is found in flaxseeds, flaxseed oil, canola (rapeseed) oil, soybeans, soybean oil, pumpkin seeds, pumpkin seed oil, purslane, perilla seed oil, walnuts, and walnut oil. The health effects of omega-3 fatty acids come mostly from EPA and DHA. ALA from flax and other vegetarian sources needs to be converted in the body to EPA and DHA. Many people do not make these conversions very effectively, however.
This remains an ongoing debate in the nutrition community; fish and sea vegetable sources of EPA and DHA versus vegetarian sources of ALA. Other sources of omega-3 fatty acids include sea life such as krill and algae.
Available Forms
Both EPA and DHA can be taken in the form of fish oil capsules. Flaxseed, flaxseed oil, fish, and krill oils should be kept refrigerated. Whole flaxseeds must be ground within 24 hours of use, so the ingredients stay active. Flaxseeds are also available in ground
form in a special mylar package so the components in the flaxseeds stay active.
Be sure to buy omega-3 fatty acid supplements made by established companies who certify that their products are free of heavy metals such as mercury, lead, and cadmium.
Source: Omega-3 fatty acids | University of Maryland Medical Center
Doses
Dosing for fish oil supplements should be based on the amount of EPA and DHA, not on the total amount of fish oil. Supplements vary in the amounts and ratios of EPA and DHA. A common amount of omega-3 fatty acids in fish oil capsules is 0.18 grams (180 mg) of EPA and 0.12 grams (120 mg) of DHA. Different types of fish contain variable amounts of
omega-3 fatty acids, and different types of nuts or oil contain variable amounts of ALA.
Fish Oil
Dogs- standard dose is 1000mg of fish oil/10lbs daily
Cats- standard dose is 1000mg of fish oil/10lbs daily
Flax Oil
Dogs- 1 teaspoon ( 5ml) per 15lbs daily, 1 tablespoon per 50lbs daily
Cats – 1 teaspoon (5ml) per 10lbs daily
Best Wishes,
Dr Andrew Jones, DVM
P.S. My supplement, Ultimate Canine Health Formula, contain 1000mg of Flax oil per scoop.
It is showing to be especially helpful for arthritic dogs, especially in combination with
my other joint support nutrients of Glucosamine, Chondroitin, MSM, Antioxidants and
Colostrum.
If you have yet to try it, you can grab a 50% OFF trial here:
http://www.thedogsupplement.com
References
1. The effect of dietary long-chain omega-3 fatty acid supplementation on owner's perception of behaviour and locomotion in cats with naturally occurring osteoarthritis.
Corbee RJ, Barnier MM, van de Lest CH, Hazewinkel HA.
Abstract
The aim of this randomized, double-blinded, placebo-controlled, cross-over designed study was to demonstrate the clinical effect, registered by a survey, of a 10-week period of omega-3 fatty acid supplementation of the diet (1.53?g eicosapentaenoic acid (EPA) and 0.31?g DHA, both per 1000?kcal ME, equivalent to the complete diet) of 16 cats with radiologically documented, naturally occurring osteoarthritis (OA), in comparison with a 10-week period of supplementation with corn oil (0.00?g EPA and 0.00?g DHA, both per 1000?kcal ME). Cats on the fish oil revealed higher activity level (p?=?0.07), more walking up and down the stairs (p?=?0.07), less stiffness during gait (p?=?0.03), more interaction with the owner (p?=?0.07) and higher jumps (p?=?0.03) compared to those on corn oil supplementation. In conclusion, supplementation of long-chain omega-3 polyunsaturated fatty acids changes the owner's perception of some aspects of behaviour and locomotion in cats with naturally occurring OA.
2. Effects of feeding a high omega-3 fatty acids diet in dogs with naturally occurring osteoarthritis.
Moreau M, Troncy E, Del Castillo JR, Bédard C, Gauvin D, Lussier B.
Abstract
The aim of this randomized, placebo-controlled and double-blinded trial was to compare the effect of a veterinary therapeutic diet (VTD) rich in omega-3 fatty acids (omega-3) from fish origin to a regular diet used as control (CTR) over a period of 13weeks in dogs afflicted by naturally occurring osteoarthritis (OA). Thirty privately owned dogs were selected. Dogs had lameness confirmed by an orthopaedic examination, had stifle/hip OA and had locomotor disability based on the peak of the vertically oriented ground reaction force (PVF) measured using a force platform. At Baseline, all owners were asked to determine 2-5 activities of daily living that were the most impaired. Activities were scores (0-4) in accordance with severity using case-specific outcome measures (CSOM). The PVF was also measured. Dogs (15/group) were then randomly assigned to receive either the CTR or the VTD. The CSOM was completed twice weekly. The recording of PVF was repeated at Week 7 and 13. The VTD-fed dogs showed a significantly higher PVF at Week 7 (p<0.001) and at Week 13 (p<0.001) when compared to Baseline. From Baseline to Week 13, VTD-fed dogs had a mean (±SD) change in PVF recording of 3.5±6.8% of body weight (%BW) compared with 0.5±6.1%BW (p=0.211) in CTR-fed dogs. This change in primary outcome was consistent with an effect size of 0.5. Conversely, dogs fed the CTR did not show significant change in PVF measurements. At the end of the study, the CSOM was significantly decreased (p=0.047) only in VTD fed dogs. In lame OA dogs, a VTD that contains high level of omega-3 from fish origin improved the locomotor disability and the performance in activities of daily living. Such nutritional approach appears interesting for the management of OA.