"Dr. Andrew Jones: Selling "Secrets" and Lies finally has a price"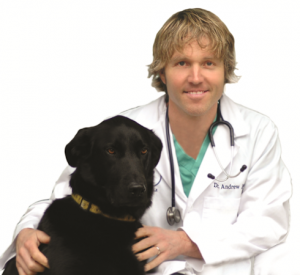 I recently googled my name and came up with this:
"Dr. Andrew Jones: Selling "Secrets" and Lies finally has a price"
It comes up on a blog called skeptvet, run by a supposed very anonymous veterinarian…
Here is some of what is said:
I once referred briefly to Dr. Andrew Jones in a previous post as an example of one of the warning signs of quackery, the claim of secret knowledge that mainstream science and medicine doesn't want you to have. Of course, his marketing activities include lots of other characteristic features of alternative medicine propaganda, including unfounded accusations about the harm done by conventional medicine and unproven or outright false claims about the safety and efficacy of alternative methods. In many ways, he is a fine example of many warning signs of quackery.
It turns out, the veterinary medical licensing authorities in Canada, where Dr. Jones lives, have more backbone than most of those in the U.S., and for years they have been warning Dr. Jones that unfairly denigrating his colleagues and making false claims is unprofessional and incompatible with the standards licensed veterinarians are expected to uphold. He repeatedly claimed he would abide by the marketing and advertising guidelines all other veterinarians are subject to in his jurisdiction, and repeated broke those commitments. Finally, the British Columbia Veterinary Medical Association (BCVMA) imposed significant fines, and Dr. Jones has chosen to give up his license so he can market his veterinary self-help products without interference.
Unfortunately, it is likely he will continue to profit from spreading lies and misinformation about the veterinary profession, and from offering dangerous advice and unproven or false treatments. He will have to walk a fine line since without a license he cannot legally practice veterinary medicine, but of course the benefits of a free society are great enough that he must be allowed to spout his nonsense as long as he does not cross the line into liable, slander, or the practice of medicine. Sadly, it wouldn't surprise me at all if he ends up in the U.S. where regulatory authorities have proven far less willing to challenge such snake oil salesman taking advantage of pet owners and profiting from fear and ignorance.
Wow..
It appears that Dr Skeptvet, if this person really is a veterinarian, has a strong dislike of me.
We are all entitled to our opinions, but when they become public on the internet, I feel that the author should be public.
So this is an entire blog dedicated to bashing and discrediting alternative veterinary medicine, yet the author is anonymous.
Hmmm
I could have started my Internet business anonymously, and never had to deal with all of the 'challenges'…in fact I would likely then still be practicing.
But that goes against all I believe in…
You have always known who I am, what I do, and even where I live
I have been very transparent and truthful.
Do you have to agree with me?
No
Do you have to buy anything from me?
No
But do I at least have 'the balls' to put myself out there?
Yes
Best Wishes,
Dr Andrew Jones, DVM
P.S. Ultimately it comes down to results..not what is said on the internet, but whether or not some of what I discuss actually helps dogs and cats.
My book, Veterinary Secrets Revealed literally has over 1000 testimonials from 'real' dog and cat owners.
See just some of them here:
P.P.S.
See the picture of the Dr with the lovely dog…
that's really me.
My other worldy advice is to give credence to information on the internet that is written/produced by someone who is willing to be public about who they are.
And one other last word of advice.
Ask questions- regardless of the source.
Even of your local veterinarian.
Then YOU decide.
DISCLAIMER: This information is for educational
purposes only and is not intended to replace the
advice of your own veterinarian. Dr Andrew Jones
resigned from the College of Veterinarians of
B.C. effective December 1 2010, meaning he
cannot answer specific questions about your
pet's medical issues or make specific medical
recommendations for your pet.